Clydesdale Bank Scottish Premier League 2010 - 2011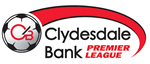 On 3 March the SPL Chief Executive revealed that the expansion of the competition from 12 to 14 or even 16 teams was under consideration as was the introduction of end-of-season play-offs. This followed a survey of supporters that indicated fans thought SPL teams played each other too often and that play-offs with the top teams from the SFL First Division would inject much needed interest at the end of the season. Any decision for change will require the support of ten of the twelve member clubs. If the SPL is expanded, there will be a knock-on effect on the SFL.
Clydesdale Bank have extended their sponsorship of the SPL until 2013.