Clydesdale Bank Scottish Premier League 2009 - 2010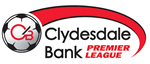 The Scottish Premier League (SPL) is the top level club competition in Scotland. Since 1999 12 teams have taken part with the champions of the Scottish Football League First Division replacing the 12th place club each season, provided their ground meets SPL standards. Celtic and Rangers enjoy a complete stranglehold on the championship (it is 24 years since Aberdeen won the title, the last team outside the Old Firm to have done so).
Secondary sponsorship is permitted on the front and back of shorts.