Eminent Victorians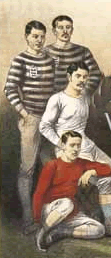 Before professionalism was recognised by the Football Association in 1885 the game was strictly amateur and dominated by teams of gentlemen-players with roots in the public school system, where the game had evolved. The exotic colours of some of these early teams were often inspired by those public schools where the players had been educated.
The game was very different then with many local and regional variants of the rules. The introduction of the FA Cup in 1872 encouraged inter-club competition and required that rules be standardised.
In Scotland, thanks largely to the pioneering efforts of the Queen's Park club, the game rapidly took root in the working classes during the 1870s, rather earlier than in England. Church and chapel teams sprang up in the 1880s, formed by clergymen to offer a healthy alternative to the public houses that were the only social outlets available in working class districts.
This section features some of the games' early pioneers who would be eclipsed by the rise of professional teams as well as interesting colour combinations worn by lesser teams.